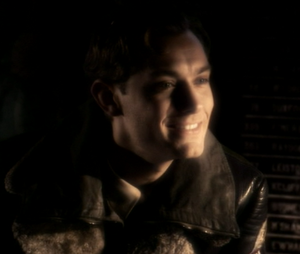 Harry Joseph Sullivan was the founder and commander of the Flying Legion. As an Ace Pilot in command of a competent and elite mercenary group; his "Army For Hire"; Joseph Sullivan earned the name Sky Captain and was an unparalleled military asset to the world in the 1930's. His personal aircraft is a heavily modified Curtiss P-40 Warhawk. In Sky Captain and the World of Tomorrow he is portrayed by Jude Law.
The Flying Legion
[
]
The Flying Legion - Main Article
Sky Captain's "Army For Hire " was an elite mercenary unit operating from an island base in North America. The size of Sky Captain's forces swelled considerably following its creation and it's numbers continued to grow until the base was severely damaged in the raid by Dr Totenkopf's Flying Wings on October 8th 1939, effectively ceasing, temporarily, any activity at the base until the extensive damage could be repaired.
Personality and Traits
[
]
Joe Sullivan has strong loyalties to his friends and allies. He is cautious and level headed in a tough situation and maintains his own discipline of will when tested to the limit. It might not be untrue to call him hard headed or even stubborn, but once he trusts someone sufficiently he is fiercely loyal. He has a joker's attitude and often cracks jokes or wisecracks, often when they seem inapropriate or unecessary but usually during a stressful situation.
Relationships
[
]
Sullivan has had multiple relationships with women. Most notably with Polly Perkins , but also with Francesca Cook , a Commander in the Royal Navy. He has a cavalier attitude with women and was even involved in a love triangle with Perkins and Cook at one point. Despite these flaws he is a passionate man and reveals his feelings for Polly following their run in with Dr Totenkopf.
Whilst he is unsettled in his relationships with women; his male friends never have to worry about being betrayed by Joe. His good friend and colleague Dex has his complete trust and support, when it comes down to his often eccentric, yet brilliant, inventions. He demonstrates his relationship with Dex by travelling across the world to save him after he is abducted by Dr Totenkopf.